Royal British Legion
Web – Royal British Legion – Norfolk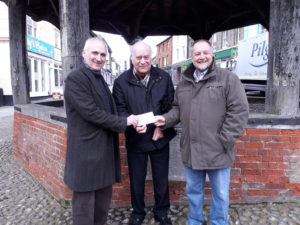 The Armistice/RAF100 Event 2018
The event will take place over 2 days on the 12th and 13th October 2018.
On the 12th October 2018 a civic dinner will take place in the Community Centre at which the Burgermeister of Freisenreid (Bernard Huber) and 4 of his Councillors will attend together with the Town Mayor and Deputy. After the Loyal Toast and Toast to the President of Germany the names of the fallen from both towns will be read out in commemoration of the 99 soldiers from North Walsham and 49 soldiers from Fresinreid who lost their lives in the conflict. The menu for the civic dinner will be selected from 1918 recipes.
Next day in the Atrium building at the High School static exhibits from WW1 and RAF related items will be on show. In the morning the film "Private Peaceful" and in the afternoon the film "Aces High" will be screened. The "Spirit of Coltishall" will be attending the event and members of the public will be allowed access to their Jaguar aircraft cockpit. Children will be invited to take part in a poetry competition leading up to the event and monetary prizes will be given to the winners. Entry to the event and film screenings will be free of charge to the public and refreshments will be available.