North Walsham Good Neighbours Scheme
Web – nwgoodneighbour.org.uk
Being a Good Neighbour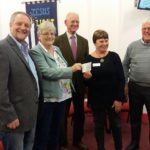 An important part of what it means to be a community is that people in a neighbourhood look out for one another and are there to give help and support when it's needed.
Neighbourliness is the social glue that binds communities together. It helps create an environment where people feel safe and secure and are more likely to go out and use community facilities. However, in today's world many people are becoming more isolated and lonely.
North Walsham Good Neighbour Scheme has been set up to help address this issue. Local, trained and vetted volunteers operate the scheme in the parish. The scope of activities undertaken is very broad and the service is free, apart from any travel costs. Typically we help local residents in practical ways such as: assisting with household tasks like removing garden waste, putting up curtains or changing light bulbs; helping with shopping or sorting out paperwork, giving a lift to shops or appointments; or by making occasional befriending visits or energy checks. The North Walsham Scheme also increases awareness of the risks of winter cold and provides practical help to reduce those risks and avoid fuel poverty.
Good Neighbour Schemes are a great way to feel part of the community, to meet new people and to make a difference in your neighbourhood. Recent studies have also shown an association between volunteering and positive outcomes for health and quality of life. It's official – volunteering is good for your health!
If you are interested in getting involved, or have any need we might be able to help with, please contact us by emailing enquiries@nwgoodneighbour.org.uk or calling 01692 558321